Bridget's Service in the Army National Guard
November 1984-November 1990
~ Oklahoma and Oregon ~ Spring 1985 ~ Along with the rest of her unit [not shown], the 145 Public Affairs Detachment, Bridget Smith visited Ft. Sill, Oklahoma for weapons qualifications with their .45 handguns and gas mask training. I don't remember ever getting to the gas mask training, but the heat we endured sure was enough suffering.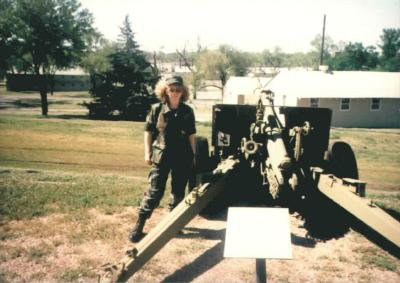 Weapons qualifications was not a big deal because in her family the custom was always to make sure each child growing up knew how to fire the loaded shotgun that always stood propped up behind the front door. No one ever had to use it, but it was comforting to know it was there in case we needed it.
We received a fun reward! Visiting an unique military museum. Fellow soldier took Smith's photo standing next to a Howitzer ~ just one of many large guns on this official Artillery Walk.



The Atomic Annie was there! I took these two photos without realizing that one day Keith Whittle would want these photos for his Atomic Veterans History Project because he corresponded with the daughter of one of those who served at these tests.


Smith has always had a penchant for history, all eras.